Welcome to Carpet Cleaning Bay Ridge
(718) 722-7130
Call Us -
Call and Get 20% Off All Our Rug Cleaning Services
Afghan Rug Cleaning Bay Ridge
Afghan rugs are from a centuries old tradition where the skills are passed from one generation to the next. For hundreds of years Afghanistan artisans have produced some of the finest rugs and kilms in the world. It is no surprise that Afghan rugs have won many international awards in recent years. From the Bukharas from the North to the Baluchi prayers rugs of the south, these rugs make a great addition to any home and will add their unique beauty. But like all rugs they need professional cleaning when they get dirty. Vacuuming cannot remove embedded dust or odors and stains. Because these rugs use natural, vegetable dyes, cleaning solutions have to be carefully chosen or the dyes can be damaged. That is they when you need afghan rug cleaning in Bay Ridge, you should call a proven expert, Carpet Cleaning Bay Ridge.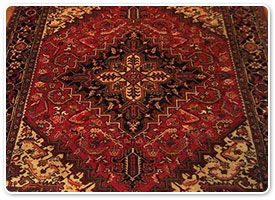 At Carpet Cleaning Bay Ridge, we clean wool rugs the right way. We first dust them to remove the loose soil and then give them a full immersive cleaning with our gentle cleaning detergent and hand clean them. By soaking the rug, we get rid of the dust, stains and odors that have built up in your rug. Vacuuming is only a surface cleaning. Our immersive cleaning reached down into the rug pile and cleans the rug fiber, removing dust and grime. After cleaning we give your rug a thorough rinsing and dry it using our spin dryers and temperature controlled drying room.
We are the Experts for Rug Cleaning in Bay Ridge!
Carpet Cleaning Bay Ridge has been open for over 2 decades and can offer a rug cleaning service that our competitors cannot match. We have our own rug cleaning factory and our staff has years of experience in cleaning all types of rugs and know how to clean a rug the proper way.
Experience and Skill in Afghan Rug Cleaning
1. We Remove Embedded Dust and Stains. Vacuuming is good to remove dust on the surface of the rug. We dust can start to settle in the rug pile and a vacuum cannot reach it. Once in the pile, dust will start to cut away at the fiber with normal foot traffic and you can start to see loose fiber. The only way to stop this is with our deep cleaning process. A dust free rug will last for many years if not decades. If your rug has stains, our gentle cleaning will remove stains without damaging the rug dyes.
2. Quick Drying Process. We have the most advanced drying process for rugs in Brooklyn and all of New York City. Most companies will just hang a rug to dry. This is bad because the dirty water will run down the rug, and gather up at the edges of the rug. This will cause dirty streaks in the rug. We use a centrifuge machine to dry the rug. As a results the water is removed from the rug and your rug will be dry in a few hours.
3. Free Pickup and Delivery. Taking your rug from your home to a rug cleaning service can be a real pain. Moving furniture, transporting it around, and picking it up can be a real hassle. We . We will come to your home free of charge to pick up the rug. We will do all the hard work of picking up your rug and bringing it back to you for free.
Carpet Cleaning Bay Ridge Services
If you need a Afghan rug cleaner in Bay Ridge, you can phone us (718) 722-7130. Our phone lines are open 24/7 and we are happy to give you information on all of our cleaning services. Ask for a free, no-obligation quote, or arrange an free on-site evaluation.