Welcome to Carpet Cleaning Bay Ridge
(718) 722-7130
Call Us -
Call and Get 20% Off All Our Cleaning Services
Chinese Rug Cleaning Bay Ridge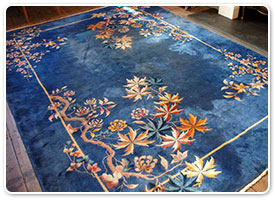 What Carpet Cleaning Bay Ridge Offer?
Cleaning a Chinese rug is not easy to do in your home. Our rug cleaning process is the result of years of experience and leaning how to clean a rug the proper way.
1. First we give your rug a thorough inspection. We want to know what condition the rug is in and the best and safest cleaning process.
2. Providing a through clean. Our cleaning specialists does not go over the rugs once, they go over it many times to ensure that the stains and dirt are thoroughly removed. Here's what we specialize on:

Hand washing of delicate rugs
Stain Removal including wine and coffee
Removal of pet odor
Removal of pet stains
Expert repair department
Fringe replacement
Carpet Cleaning Bay Ridge is the premiere service Chinese rug cleaning in Bay Ridge that provides great service and affordable rug cleaning services.
Call now: (718) 722-7130.